Zorb Ball Water Ball Bubble Football China Designer, Manufacturer, Wholesaler
Zorb Limited
specializes in manufacturing
zorb ball
,
water ball
,
body zorbing football
, bubble soccer, water pool,water roller,
Water inflatables
, zorbing ramp, inflatable show ball, inflatable dancer ball, inflatable water sports, inflatable games. With 7 years experience of manufacturing inflatable products, Zorb Limited now has high-tech devices and skilled workers, We provide high quality products with the reasonable price and efficient service. We wholesale & retail zorb ball and bubble football, inflatable water toys, OEM & ODM is Welcome.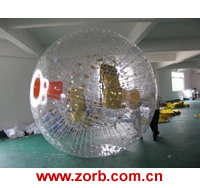 Zorb Ball
is the sport of rolling down a hill inside a giant inflatable ball, AKA:
zorb globe
, giant inflatable
human hamster ball
, It's great for using down local hills, parks, play areas, football pitches and zorbing ramp, zorbing orbit. We also can provide you zorb balls for use on water,
aqua zorb Ball
.
Water Ball
is for walking on water or inflatable water pool, for floating on water, its a float tank, a dance ball, Inflatable show ball a display ball for placing products inside and for use in show business productions, TV shows and for your own creative ideas. AKA:
water walking ball
, water walkerz, aqua bubble, More
Inflatable water sports
.
We also list some Frequent Asked Questions and Payment information, if you have more special problem, cooperate & suggestions, You can also send us a direct email:
admin@zorb.com.cn
Click here
Get a Quote
(
Price List for zorb ball, water ball, Bubble Football, water pool, water roller, zorbing ramp
).
Zorb Ball, Water Ball, Inflatable Water Games special manufacturer in China.